Intersection
Intersection
Written by XXXXX
Two friends seeking a diagnosis in a system that was never designed for them.
March 26 & 27
Park Place Theatre | Halifax
March 31 & April 1
CPPC | Guysborough
April 2 & 3
Bauer Theatre | presented by Festival Antigonish
Call 902-533-2092
Purchase Tickets Here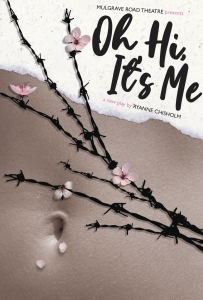 On the surface this play is a simple dialogue between two friends who are both dealing with the ends of their marriages. But as we listen to what's not being said we realize how much is at stake for each of them,
how their friendship has transformed and how extraordinary this afternoon really is.
---
Director Samantha Wilson
Cast Ryanne Chisholm : Amanda LeBlance
Stage Manager Jess Lewis
Set Designer Katrin Whitehead
Lighting Designer Jess Lewis
Sound Designer Jennifer Trites
Production Assistant Carmen Lee
---
"Mulgrave Road Theatre has always given a platform for stories that are begging to be told. This is one of those stories."
With support from Arts Nova Scotia, we invited artists to Guysborough to embark on a journey to where their work might intersect.
Two songwriters, a portrait artist, a writer/performer and an animateur.
In their words…
"Intersection was a week of stimulating discourse, emotional exchange, and beautiful discovery. On both a personal and artistic level, it challenged my inhibitions and encouraged growth and opening, allowing me to connect deeply with my collaborators. The "Intersections" between music, storytelling, and performance were deconstructed and rebuilt, yielding a surprising common thread. Daniel MacIvor, acting as mentor and director, lead us through various exercises that produced newly created content (original songs, stories, and physical performances) and masterfully tied these seemingly disparate elements together into a cohesive piece." ~ Carmel Mikol
"This experience challenged me to engage with my personal ritual when approaching a creative work. The concept of outcome was identified as a common barrier to art, in which expectations for the result distort and intoxicate the motivation to create. Songwriting and general artistic expression is a recent passion in my life, having begun developing this project three years ago. I am very grateful for the opportunity to have participated in this workshop and am certain this experience will continue to shape my approach to artistic expression moving forward." ~ Daniel Walker