An Ordinary Afternoon in 1974
On the surface this play is a simple dialogue between two friends who are both dealing with the ends of their marriages. But as we listen to what's not being said we realize how much is at stake for each of them, how their friendship has transformed and how extraordinary this afternoon really is.
written by Daniel MacIvor
April | 2019
MRT Loft | Guysborough
Bauer Theatre | Presented by Festival Antigonish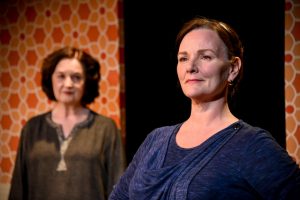 ---
Director Daniel MacIvor
Cast Burgundy Code : Caroline Gillis
Stage Manager Ingrid Risk
Set Designer Emmy Alcorn
Lighting Designer Ingrid Risk
Costume Designer Elizabeth Perry
Production Assistant Olivia McGinn
Photography Dave Risk
(L-R Caroline Gillis, Burgundy Code)
---
The truth lies just below the surface.