Unlocking Brain Secrets
Unlocking Brain Secrets
Written by XXXXX
Two friends seeking a diagnosis in a system that was never designed for them.
March 26 & 27
Park Place Theatre | Halifax
March 31 & April 1
CPPC | Guysborough
April 2 & 3
Bauer Theatre | presented by Festival Antigonish
Call 902-533-2092
Purchase Tickets Here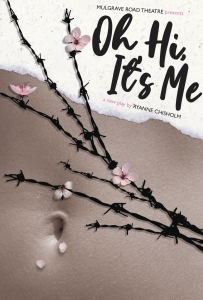 On the surface this play is a simple dialogue between two friends who are both dealing with the ends of their marriages. But as we listen to what's not being said we realize how much is at stake for each of them,
how their friendship has transformed and how extraordinary this afternoon really is.
---
Director Samantha Wilson
Cast Ryanne Chisholm : Amanda LeBlance
Stage Manager Jess Lewis
Set Designer Katrin Whitehead
Lighting Designer Jess Lewis
Sound Designer Jennifer Trites
Production Assistant Carmen Lee
---
"Mulgrave Road Theatre has always given a platform for stories that are begging to be told. This is one of those stories."